P K Dick
Noone can do an adequate Philip K Dick tribute, but we can all contribute a bit here and there I think. Provide a leaf or two that will perhaps one day be compiled into the masterwork, that describes his life.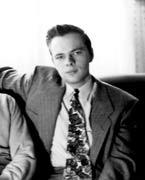 A comprehensive site resides at http://www.philipkdick.com/
Personally, I have to admit to a deep respect for the author and the man. Just last night (September 30, 2009), whilst visiting a friend in hospital, I re-read on of his short stories. My friend had ordered Second Variety, a collection of his short stories, from Amazon, and they'd been delivered that day. I read "The Hanging Man", and it was as close to a perfect short story as any I've read. It almost makes me think that it's not worth writing, that perfection has been achieved. But I know that's wrong. I know that technology has moved on, and opened up new ways to hold new mirrors up to reflect ourselves. Well, something like that. Who knows how it will turn out, I never do, from the first word to the penultimate paragraph, it's all a magical ghost-writing mystery. I'm the divinely invaded medium something (whatever it is) chooses to write through.
Today, on Twitter of all mediums, I read a note that suggested Rudy Rucker (current sci-fi writer) and Phil (I think they meant PKD) exchanged letters. Phil once returned Rudy Rucker a manuscript of Rudy's, with annotations and corrections. Ouch, that would be hard for anyone to accept from anyone but your editor. I guess though, if anyone was qualified to review your work, then PKD was a good person.
So what Dick stories have been made into movies?
| | | | |
| --- | --- | --- | --- |
| Movie | Year Released | | PKD Story based on |
| Next | 2007 | | The Golden Man (short story) |
| Minority Report | 2002 | | The Minority Report (short story) |
| Impostor | 2001 | | Impostor (short story) |
| Paycheck | 2003 | | Paycheck (short story) |
| Bladerunner | 1982 | | Do Androids Dream of Electric Sheep? (novel) |
| A Scanner Darkly | 2006 | | A Scanner Darkly (novel) |
| Total Recall | 1990 | | We Can Remember It For You Wholesale |
| Screamers | 1995 | | Second Variety (short story) |
| Screamers:The Hunting | 2009 | | Second Variety (short story) |
| Confessions d'un Barjo | 1992 | | Confessions of a Crap Artist |
| TV | | | |
| Total Recall 2070 | 1999 | | Seems to be a Blade-Runner (the movie) and Total Recall mish-mash. Contains emphasis on androids trying to be human, but the Rekall mempry implants are there too. And Mars. Series, 22 episodes. |
And what documentaries can we see that involve him?
Philip K Dick - A Day in the Afterlife. 1994 Arena documentary
---